Interzoo Newsroom
Revenue increases in German pet market: The growth trend continues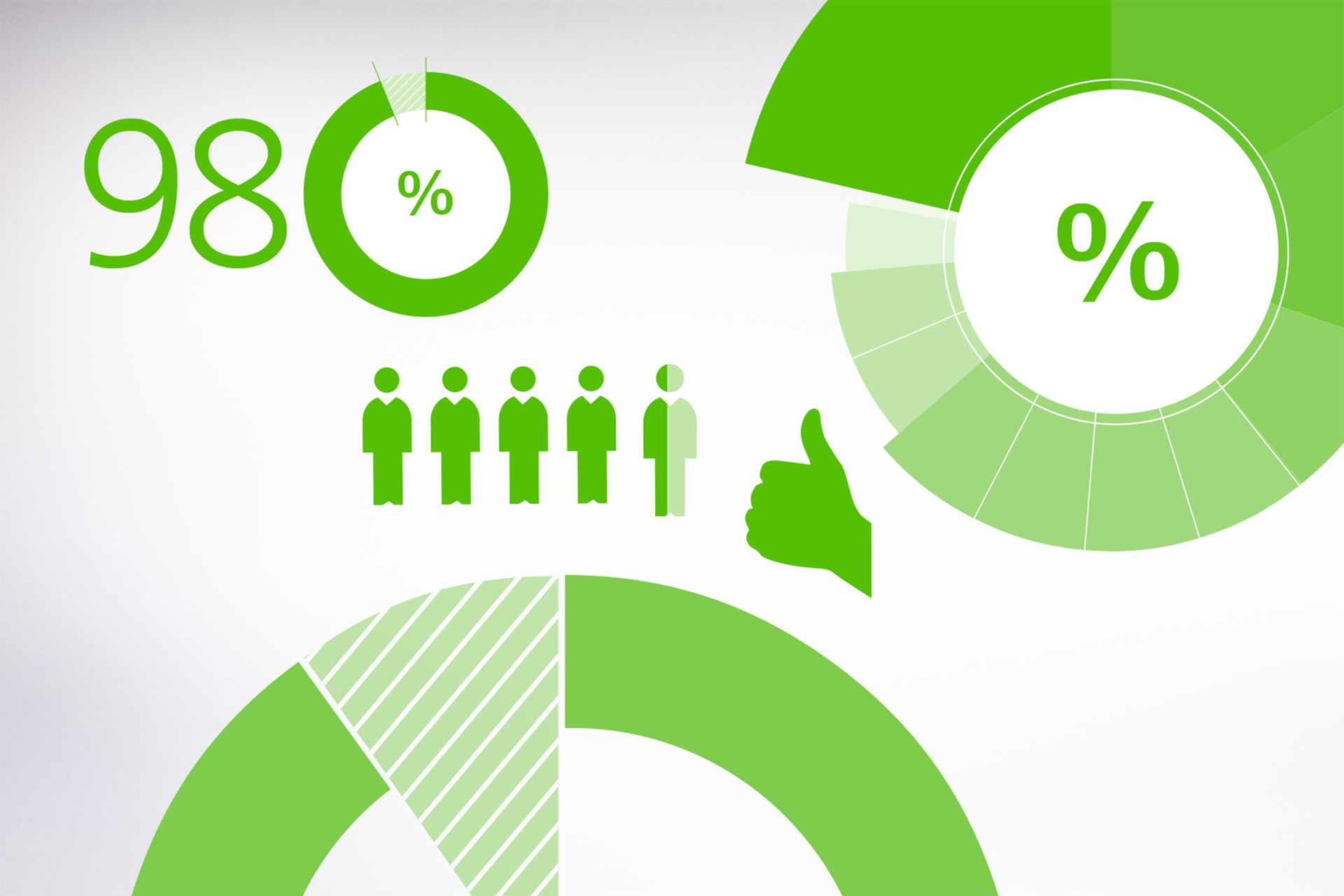 Last year the German pet industry recorded total revenues of EUR 4.223 billion in retail sales of pet supplies and food, an increase of 1.5 percent. Online sales added a further EUR 625 million, and feed for wild birds another EUR 100 million. The resulting total of EUR 4.948 billion shows the industry is maintaining its high revenue levels from previous years and is continuing to grow.
The share of retail pet supplies and food represented by ready-to-eat pet food, at EUR 3.226 billion, outperformed the 2017 figure by 1.7 percent, thus maintaining a steady position. As in the previous year, gains were recorded in supplies and accessories from physical sales outlets, with revenue of EUR 997 million (up 1.0 percent).
Dog food revenues still trending upward – market driven by canned food and snacks
With an increase of 4.5 percent, the dog food market maintained its growth trend from previous years in 2018, earning sales revenues of EUR 1,446 million at physical sales outlets. Drivers of growth here were the canned food segment (EUR 473 million, up 6.3 percent) and snacks (EUR 538 million, up 4.9 percent). The dry food segment also gained ground, with revenues of EUR 435 million (up 2.1 percent).
"Increasing use of mixed feed, combining canned and dried food, together with the practical advantages of single-portion packaging, has certainly been part of the reason for the growth in canned food," says Georg Müller, Chairman of the Pet Supplies Industry Association (Industrieverband Heimtierbedarf, IVH). "And snacks, with their functional benefits as a supplement and as reward treats, are still very much in demand, which also contributes to further growth in this category."
Cat food market holds steady at high level
In the area of supplies and food retail, the cat food market remained the largest feed segment again in 2018, but nevertheless saw a slight decline of 0.4 percent to revenue of EUR 1,577 million. Here too, snacks were the clear growth segment (EUR 238 million, up 3.5 percent). The dry food segment also performed well (EUR 299 million, up 0.3 percent). Only the canned food segment declined slightly, in contrast to its performance the previous year (EUR 1,040 million, down 1.4 percent). "Today's snacks offer more than just flavour – they provide additional benefits," explains Norbert Holthenrich, President of the German Pet Trade & Industry Association ZZF (honorary sponsor of Interzoo). "All in all, there is a focus on improving the quality of both dry and canned food still further. The continued growth is also partly explained by the trend toward smaller package sizes, which help ensure that food is always fresh when it reaches a pet's bowl."
Food for small animals still the third-strongest feed segment
The small animal food segment remained the third-strongest performer among feeds, after cat and dog food, although revenues from traditional sales channels fell 2.3 percent in 2018, to EUR 85 million. Sales revenues in the fish food market also declined (EUR 52 million, down 3.7 percent), while revenues for feed for pet birds from physical sales outlets performed well, picking up 1.5 percent to EUR 66 million.
Slight growth in supplies and accessories
Supplies and accessories followed up on their positive performance from 2017 with a further revenue gain in 2018, up 1.0 percent to EUR 997 million. As in the previous year, there were two clear growth winners in this category: dog accessories (EUR 202 million, up 5.2 percent) and cat accessories (EUR 204 million, up 3.0 percent).
The cat litter segment, on the other hand, declined slightly (EUR 282 million, down 1.4 percent). Declines were also recorded in supplies and accessories for small animals (EUR 95 million, down 4.0 percent) and pet birds (EUR 32 million, down 5.9 percent). On the other hand, revenue figures for pet fish were up 2.2 percent, to EUR 182 million.
Sales channels: Specialty dealers remain the strongest channel for supplies and accessories
Specialty retailers remained the most important channel for supplies and accessories in 2018, with sales revenues of EUR 795 million and a revenue share of 80 percent, while the retail foodstuff market (including chemists and discounters) remained the main sales channel for ready-to-eat pet food (sales revenue: EUR 2,046 million, revenue share: 63 percent).
Online trade established as a relevant sales channel
Expert estimates from both industry and retail have reconfirmed what was already evident in previous years: the Internet is increasingly important for pet products as for so much else. Total estimated sales revenues for 2018 were about EUR 625 million – a considerable increase compared to the previous year. Data broken down by animal species is not yet available for the online market. A further EUR 100 million was generated by feed for wild birds – a gain of EUR 2 million from the year before.
Pet population remains high
Last year, German homes had 34.4 million dogs, cats, small mammals and pet birds. This number does not include large numbers of fish and terrarium species. Overall, 45 percent of households in Germany had pets: 63 percent of all families with children had a pet, and 22 percent of all households had at least two pets. These figures result from a representative household survey by market research institute Skopos, commissioned by IVH and ZZF (telephone survey, based on 7,000 interviewees).
Cats are still the no. 1 pet in Germany, with 14.8 million in 23 percent of households in Germany. Dogs, in second place, number 9.4 million in 19 percent of households, nosing out 5.4 million small animals, found in six percent of households. Birds kept as pets totalled 4.8 million in four percent of German households in 2018. In the same period, there were 1.9 million aquariums in four percent of households, and 1.5 million garden ponds with pet fish in three percent of households in Germany. The number of terrariums increased by 200,000, with one million terrariums in two percent of German households in 2018.
More pets in single-person households
Most pets live in multi-person households. However, in the past year, the proportion of single-person households with pets grew to 32 percent (2017: 30 percent). The figures declined from 35 to 34 percent for both pet-owning households with two human occupants and those with three persons or more.
Pet owners tend to be older
Many pet owners are in mid-life: 19 percent are between the ages of 40 and 49 (2017: 19 percent), 22 percent are between 50 and 59 (2017: 21 percent), and 27 percent are over 60 (2017: 26 percent).
The under-30 bracket was once again the smallest group of pet owners, as in the previous year, at 15 percent, and the figure for pet owners between the ages of 30 and 39 declined to 17 percent (2017: 19 percent).
Market performance in the pet industry and the steady numbers of pets in Germany show that Germans still like living with pets, and enjoy looking after and caring for their animal friends.
_______________
Archive of Newsletter Interzoo news
Subscribe to the Interzoo newsletter and stay informed!