Interzoo Newsroom
Review of Interzoo.digital: New wrap-up video and brief analysis online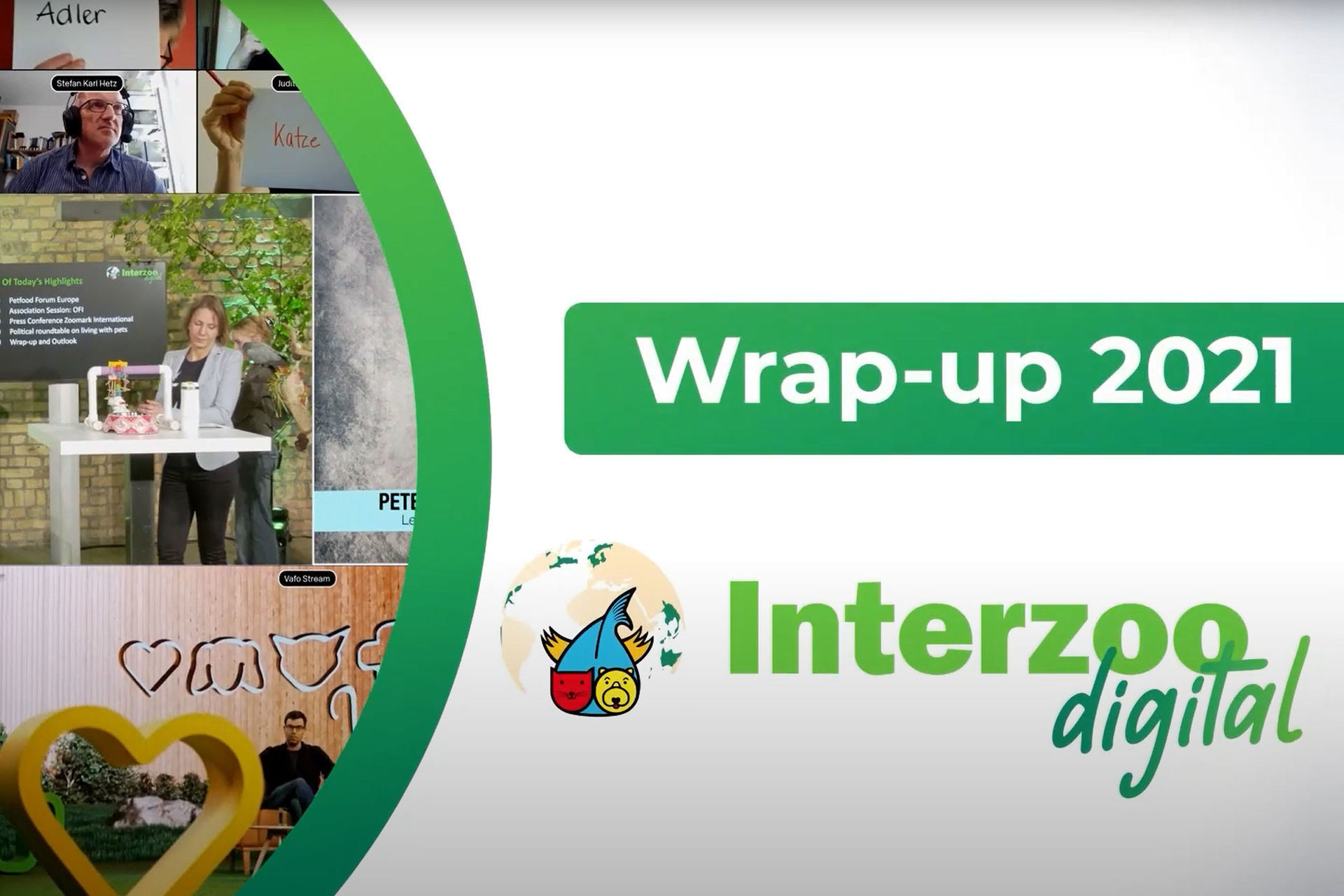 Anyone who missed the successful launch of the first Interzoo.digital or would like to refresh their memories of it can watch the new wrap-up video and read the latest show report.
New wrap-up video
This year's Interzoo.digital set new standards as one of the largest digital trade fair platforms for innovations, trends, and new product developments in the international pet supplies industry, and the participants look back fondly on four successful and enjoyable days. But those who were unable to attend missed a lot; and they can now at least get an impression of the fascinating premiere and international flair of Interzoo.digital by watching the new wrap-up video. It is well worth a look: https://www.youtube.com/watch?v=LhPyrEIaalw
New show report
Complementing the video, the new show report and analysis of the participant survey offers useful facts, figures, and data for all exhibitors and visitors. One of the things confirmed by the analysis is that Interzoo, already an international platform for trends and innovations, has developed into a magnet for new product ideas from start-ups: 27 percent of the exhibitors at Interzoo.digital were young, innovative companies and start-ups.
The many opportunities to network represented a major plus for Interzoo.digital. Not only did exhibitors and visitors get to know each other, visitors also had the opportunity to network with their peers. The system drew on personal profiles and posted interests to identify appropriate business partners. Participants were also able to use a basic search function to find specific people and to easily arrange appointments. Conversations could use both chat and video functions, either one-to-one or in groups. Accordingly, the survey showed the majority (74 percent) of the 336 exhibitors present reached their target groups, and 72 percent expect post-show business. There is normally a high proportion of international exhibitors, and they accounted for 77 percent of the total on this occasion as well.
Most of the 9,513 visitors from more than 100 countries were on "new ground" in trade fair terms by participating in the digital version of Interzoo: For 62 percent, it was their first visit to a digital trade fair, according to the survey. As expected, the visitors reflected a highly international make-up and strong decision-making skills, with 70 percent coming from outside Germany and 76 percent being decision-makers (including independent business owners, managing directors, divisional directors, and department heads). All visitors had fast and easy access to a wide range of exhibitors. Searching the show floor for providers and specific product groups and brands allowed them to enjoy a structured visit. In the "My Interzoo" log-in area, participants were able to organize their appointments and favourite exhibitors and speakers.
For more information:
_______________
Archive of Newsletter Interzoo news
Subscribe to the Interzoo newsletter and stay informed!