Interzoo Newsroom
Countdown to Interzoo 2022: Register now!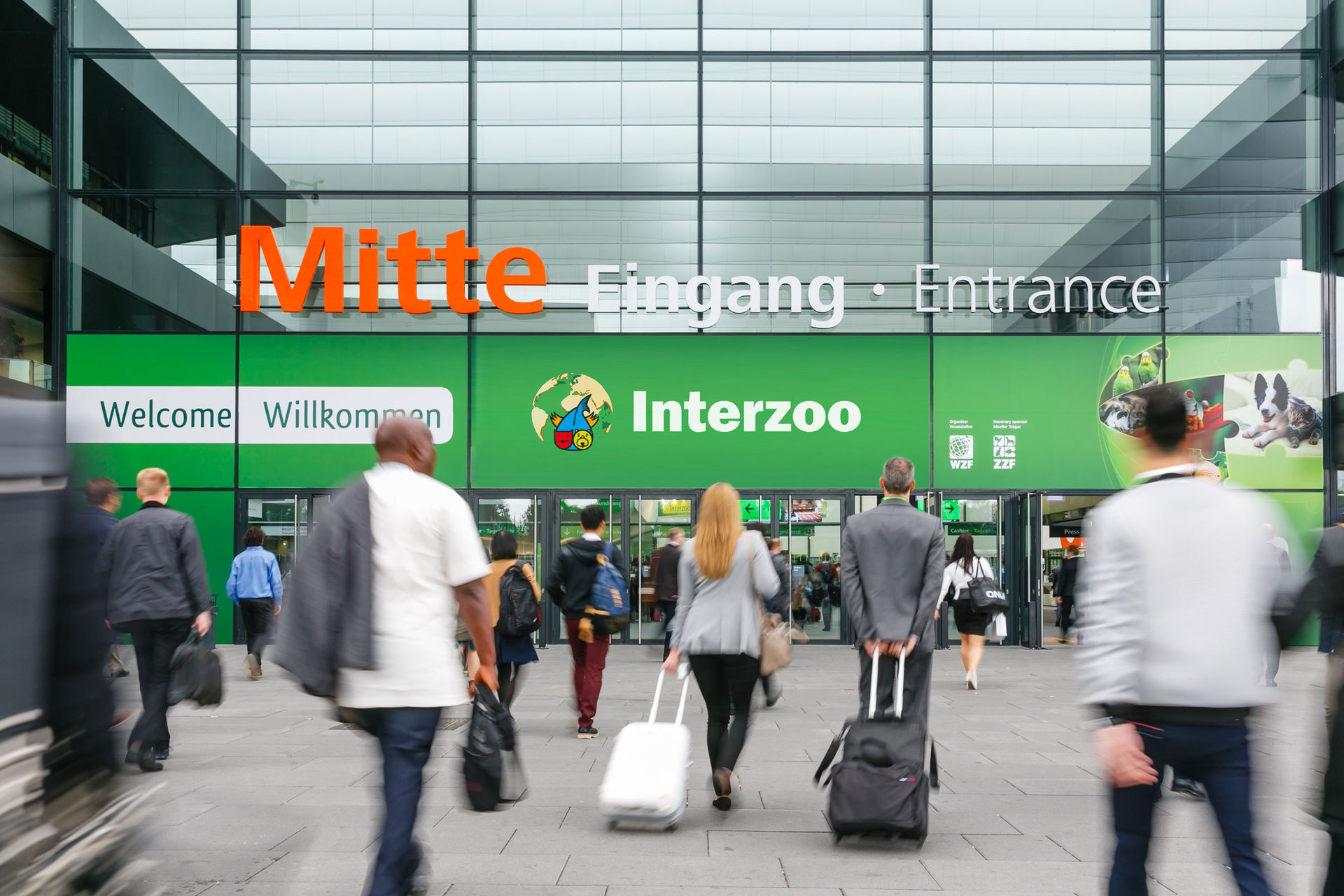 The countdown to Interzoo 2022 has begun! Almost 1,000 exhibitors have already registered and are now making their preparations to market new products and services at the world's largest international trade fair for the pet supplies industry in Nuremberg from 24 to 27 May 2022.
After the Interzoo trade fair had to be postponed in 2020 because of COVID-19 and took place in a digital format in 2021, the international pet supplies sector can hardly wait to meet in person again on-site in Nuremberg next year. They are looking forward to fully experiencing the global range of innovative products and services for all aspects of the pet industry, and also to the opportunity to cultivate contacts and establish business relationships. There is no substitute for the experience of touching, smelling, and testing products and getting to know people personally, all of which creates a reliable foundation for successful business relationships. Accordingly, many Interzoo customers have indicated strong interest in the upcoming trade fair: "Current registration numbers are highly promising, and we are very pleased with the figures so far showing that about ten percent of the exhibitors at Interzoo 2022 are new," says Dr Rowena Arzt, Director Exhibitions for WZF (Wirtschaftsgemeinschaft Zoologischer Fachbetriebe).
According to AUMA, the Association of the German Trade Fair Industry, Germany is the global No. 1 among exhibition venues, thanks to the large proportion of the world's industry fairs held in this country. That is why, year after year, surveys of Interzoo exhibitors and visitors constantly reconfirm that attending Interzoo in Nuremberg is well worth the time! At the last in-person Interzoo in 2018, about 39,000 trade visitors from 126 countries had the opportunity to learn about products and services from1,990 exhibitors from 66 countries, in a gross exhibition area of more than 120,000 square metres. Eighty-nine percent of exhibitors positively rated the quality of the trade visitors to their stand. Ninety-three percent reached their main target groups with their products and services. According to the survey, more than 93 percent were able to forge new business contacts, and nine out of ten exhibitors expected follow-on business from their contacts. More than 87 percent of exhibitors in turn achieved their specific trade fair goals, and 88 percent described themselves as happy to very happy with the overall outcome. That was also confirmed by the results of the trade visitor survey: More than 96 percent were happy to very happy with their attendance at Interzoo. Almost all visitors (97 percent) were happy with the general range of products and services; 89 percent had special praise for the wide range of innovations and forward-looking trends. It is therefore no surprise that immediately after the event, more than 96 percent of the visitors said they would attend the next Interzoo.
NürnbergMesse has been sending registration forms to previous and potential exhibitors on behalf of Interzoo organizer WZF since April 2021. Make full use of the months between now and the start of Interzoo to plan your participation in good time (see also the following article) to ensure that your company also benefits from the success of this exceptional trade fair and the ideas it offers for the global pet supplies industry. The exhibitor and visitor team at NürnbergMesse will be happy to help you plan your presentation and make it a reality.
More information and contact:
_______________
Archive of Newsletter Interzoo news
Subscribe to the Interzoo newsletter and stay informed!