Interzoo Newsroom
The stage is set for the Interzoo.digital supporting programme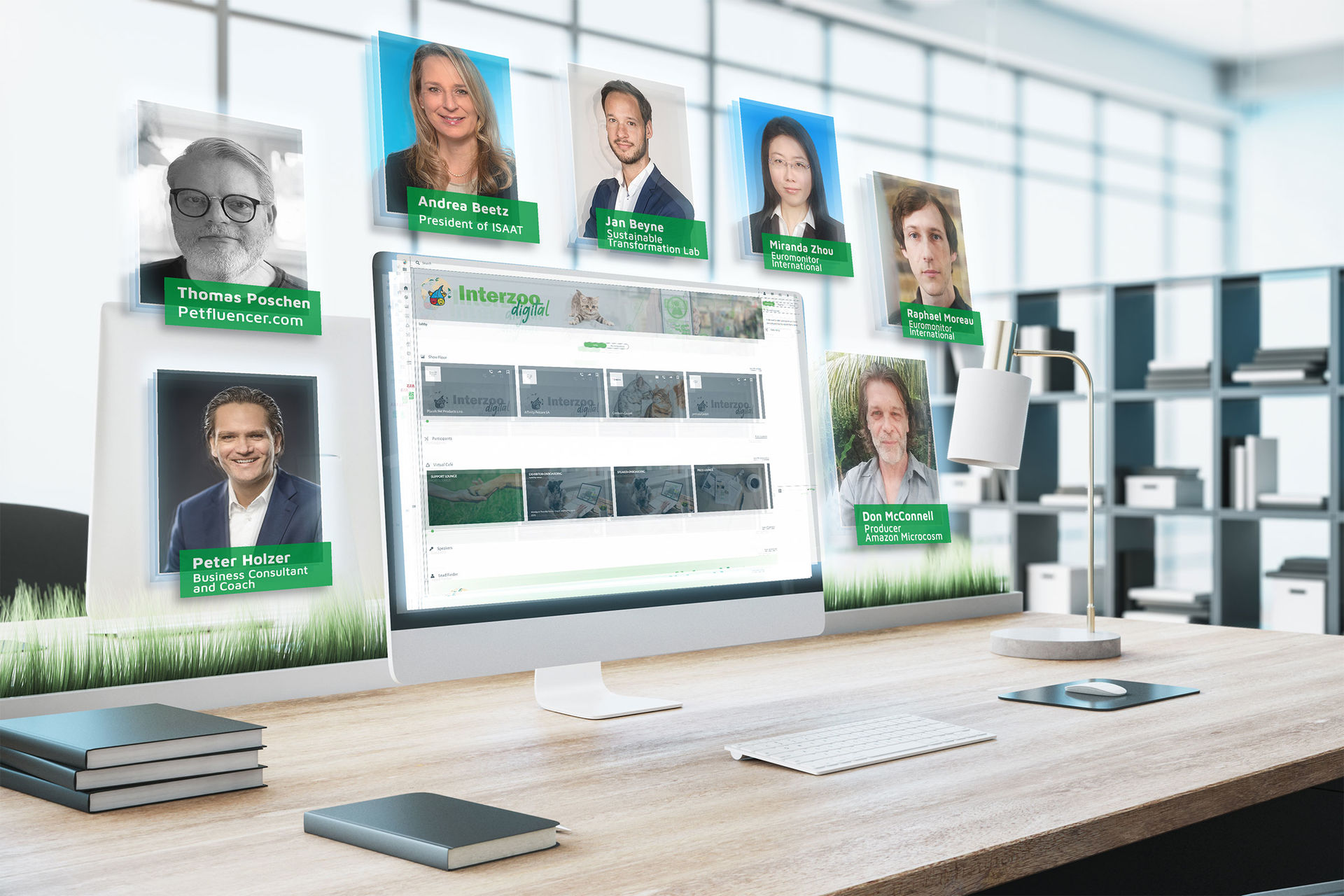 On five virtual stages, Interzoo.digital offers a diverse supporting programme in the form of live-streams and on-demand content. In virtual themed cafés Interzoo.digital features specialist presentations and chats with experts. Many of the sessions in the supporting programme will be recorded and made available to visitors online to the end of June.
Stage 1: Interzoo Live
The online trade fair kicks off at 9.30 a.m. (CET) on 1 June 2021 with Norbert Holthenrich, President of Interzoo sponsor German Pet Trade & Industry Association (ZZF), who will welcome all visitors and exhibitors to the Interzoo Live stage. Katharina Engling, Chair of the Interzoo Advisory Committee, will then discuss the current situation in the pet industry during the COVID-19 crisis and the opportunities that Interzoo.digital is offering the sector worldwide. The special guest of honour is Julia Klöckner, German Federal Minister for Food and Agriculture, who will officially open the event with a welcome address from Berlin.
To conclude the opening ceremony, Dr Andrea Beetz, psychologist and President of the International Society for Animal Assisted Therapy (ISAAT), will vividly explain how important pets are to people during the pandemic. In her inspirational presentation "How pets support people during the pandemic" and a subsequent interview, she will draw on the latest studies to explain the importance of pets in crisis situations and their impact on our mental health and well-being.
In the afternoon, the new sustainability study by Interzoo Academy and the Sustainable Transformation Lab of Antwerp Management School will be presented for the first time. The presentations in this session will focus on how the relevance of sustainability in the pet industry has changed from 2018 to the present and the speakers will highlight potential activities that companies can take to enhance sustainable development. Following these theme setting slot, attention will turn to Latin America and the Amazonas region. The premiere of "Wild Caught," a documentary film (with German subtitles) by Don McConnell about the ornamental fish trade in the Amazonas region and its effects, will launch a series of sessions for aquarium and terrarium enthusiasts that will run throughout the event. Other aquarist highlights include a presentation by Matthias Wiesensee from Petosocial about my-fish.org and influencer marketing, the Ornamental Fish International Association (OFI) conference, and the conclusion and closing ceremony on the Friday afternoon.
Stage 2: Industry Spotlights
The Industry Spotlights stage will provide a channel for special topics in the sector and presentations by exhibitors that showcase their products and provide more detail about specific features.
Stage 3: How To and Best Practices
The How To and Best Practices stage will be the venue for a number of sessions on petfluencer marketing and will focus on activities like e-commerce strategies, start-up marketing, and marketing on social media. Thomas Poschen, CEO and co-founder of petfluencer.com, will be the opening speaker, followed by other well-known representatives of the sector like Princess Maja von Hohenzollern, who will talk about how she built her brand. Other exciting applications and best-practice examples on the topics of pet grooming and aquascaping will also encourage participants to discover new ideas and get inspired.
Stage 4: Markets, Trends and Research
On a dedicated stage market conditions, trends, and developments will be presented. Miranda Zhou and Raphael Moreau, both of whom are experts from Euromonitor International, will speak on the developments in the Chinese and Western European markets. Another highlight on this stage will be a talk by management consultant and executive coach Peter Holzer on the impact of digitalization on corporate culture, leadership, and communication.
Panels moderated by Dr Stefan K. Hetz, scientific specialist on pets and international relations at the ZZF, include several discussion panels with international specialists such as Mike Baltzer from Shoal, an NGO dedicated to protecting freshwater species; Leandro Sousa from the University of Pará in Brazil, a specialist in the ecology of tropical catfish; and Saulo Usma from WWF Columbia, who has dedicated himself to protecting wetlands in accordance with the RAMSAR Convention. Professor Simone Sommer from the University of Ulm will discuss zoonoses, while Helen Roy from the UK Centre for Ecology and Hydrology will talk about invasive species.
Stage 5: Products and Companies
On the Products and Companies stage, trade visitors can find out more about participating exhibitors through corporate or product videos and will be inspired to make visits and access other content at the digital event.
Interzoo.digital: Important forum for professional dialogue
Information on other specialist topics and industry trends will also be published on www.interzoo.com. Interzoo.digital is also offering the global pet supply community an important forum for international dialogue between industry experts, in addition to the interactive networking opportunities that are part of the digital trade fair. The virtual cafés Aquariums & Terrariums, Grooming, Pet Food, Sustainability and Petfluencers provide the opportunity to discuss these topics with experts via chat or video functions.
_______________
Archive of Newsletter Interzoo news
Subscribe to the Interzoo newsletter and stay informed!