Interzoo Newsroom
The German pet market in 2020: More revenue, more pets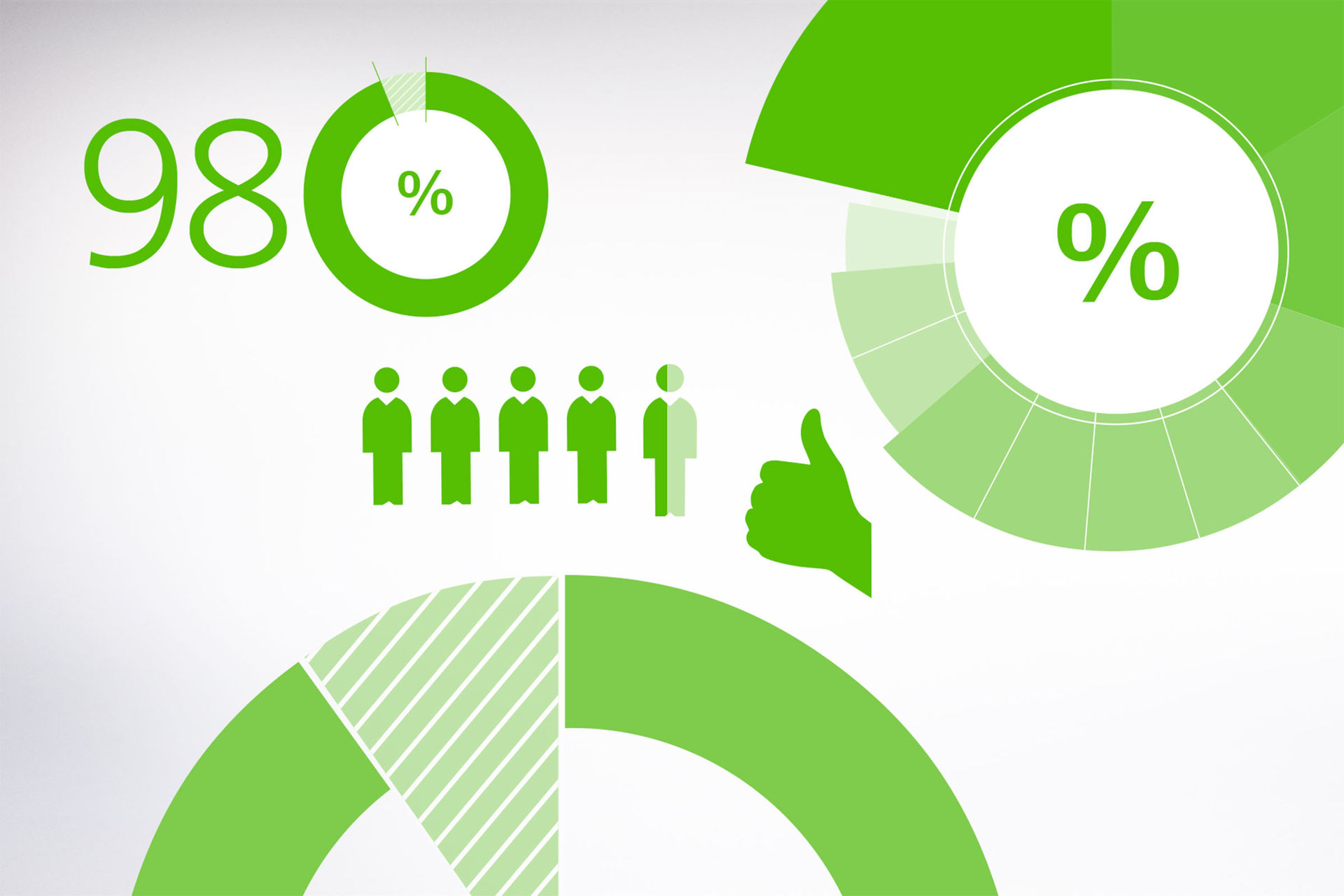 Last year was also an unusual one for the German pet industry: Revenues grew significantly in some areas, and the number of animal companions also increased overall: Almost half of the households in Germany now have a pet. With an aggregate revenue of EUR 4.513 billion, the retail trade in speciality and food products from physical sales outlets enjoyed revenue growth of 4.3 percent in 2020. The revenue component represented by ready-to-eat pet foods came to EUR 3.460 billion, or 4.6 percent higher than in the previous year. Strong gains were also recorded in the supplies and accessories segment, with revenues of EUR 1.053 billion (up 3.5 percent). Online sales added EUR 822 million and feed for wild birds another EUR 128 million. Aggregate revenues in the German pet industry is therefore on the order of EUR 5.5 billion.
Continued growth in revenue from dog food – snacks a driving force on the market
The market for dog food continued to grow in 2020, with revenue from physical sales outlets reaching EUR 1.567 billion, or an increase of 4.0 percent. Snacks were the main driver of growth in this area, with growth of 6.0 percent to EUR 602 million. Solid revenue growth was also recorded in the canned food segment (EUR 502 million, up 3.1 percent) and dry food (EUR 463 million, up 2.4 percent).
Cat food market still the largest food segment
With an aggregate revenue of EUR 1.680 billion, or an increase of 5.3 percent compared with the previous year, the market for cat food remained the largest food segment in 2020. The strongest driver of growth was the snacks segment (including cat milk), which grew by 9.4 percent to a total of EUR 268 million. Strong growth was also recorded in the canned food segment (EUR 1.105 billion, up 5.0 percent) and dry food (EUR 307 million, up 2.7 percent).
Food for other pets and wild birds also trending upward
The small animal, fish, and bird food markets all showed encouraging progress in 2020. The small animal food segment remained the third-strongest performer among feeds, after cat and dog food, and enjoyed further growth following the increase in revenues via traditional sales channels recorded in the previous year – up 4.6 percent to EUR 91 million. Positive growth was also recorded in the fish food segment (EUR 55 million, up 3.8 percent) and, following slight declines in the previous year, bird food (EUR 67 million, up 3.1 percent). Another EUR 128 million was generated by feed for wild birds: an increase of 2.4 percent compared with the year before.
Products for cats and dogs enjoy strongest growth among supplies and accessories 
Revenue for physical sales outlets in the supplies and accessories segment amounted to EUR 1.053 billion in 2020, an increase of 3.5 percent compared with 2019. As in earlier years, cat litter made up the largest proportion of this figure, with growth of 2.8 percent to EUR 292 million. The top scores for growth went to supplies and accessories for cats (up 4.8 percent to EUR 218 million) and dogs (up 4.7 percent to EUR 225 million). Revenue figures for pet fish supplies and accessories also continued to increase by 2.7 percent to EUR 190 million.
After the pet bird supplies and accessories segment ended 2019 at the same level as the year before, it was gratifying to see a 3.1 percent increase in revenue in 2020 to EUR 33 million. The upward trend in supplies and accessories for small animals observed in previous years came to an end in 2020, closing the year with growth of 2.2 percent to EUR 95 million, the same as in 2018.
"I agree with many experts in our sector that the COVID-19 pandemic was a relevant factor that influenced revenue developments in the German pet market," says Norbert Holthenrich, President of the German Pet Trade & Industry Association (ZZF). "For many people pets are members of the family, and they're prepared to pay to keep them healthy. Last year, the focus was on looking after pets, ensuring that they ate well, and making new purchases for the people and pets at home. That's clear from the higher revenues for snack rewards and spending on toys, fishponds, and vivaria." Pets can now be found in almost half of German households, and they were well taken care of during the COVID-19 crisis: "Expressly acknowledging the systemic relevance of the speciality pet retail sector at the start of the first lockdown in the spring of 2020 was the right decision, and an important one," Holthenrich observes.
Retail food the strongest sales channel for ready-to-eat pet food: Speciality retail still the leader in supplies and accessories
Even if the speciality retail sector increased its share of the pet food market slightly, foodstuff retail (including chemists and discounters) asserted itself as the principal sales channel for ready-to-eat pet food, with revenues of EUR 2.120 billion and a 61 percent revenue share. The speciality trade for supplies and accessories increased its revenues to EUR 835 million, and it remains the most important sales channel in this segment with a revenue share of 79 percent.
Marked growth in online trade
The growing importance of the Internet for purchasing pet products made itself known once again in 2020, the year of the coronavirus. Estimated revenues for the year came to EUR 822 million, an increase of EUR 117 million (more than 16 percent) compared with 2019. Data broken down by animal species isn't yet available for the online market.
About 35 million pets in Germany
Almost half of all households in Germany (47 percent) included pets in 2020. In total, Germans lived with 34.9 million dogs, cats, small mammals, and pet birds, almost one million more than in the previous year. This figure doesn't include large numbers of fish and terrarium species. 66 percent of all families with children had a pet, and 13 percent of all households had at least two types of pets. This result was obtained from a representative household survey by market research institute Skopos that was commissioned by IVH and ZZF at the start of the second lockdown in the autumn of 2020 (telephone survey based on 7,000 interviewees).
Cats are still the favourite pets in Germany
Cats are still the no. 1 pet in Germany, with 15.7 million in 26 percent of households. Cats make up 52 percent of the pet population, with dogs in second place at 10.7 million in 21 percent of households. Based on the latest survey, the proportion of mixed-breed dogs declined from 47 to 42 percent. Five percent of German households accounted for 5.0 million small animals like rabbits, guinea pigs, hamsters, and mice. Birds kept as pets totalled 3.5 million in three percent of German households in 2020. In the same period, there were 1.8 million aquariums in four percent of households, 1.4 million fishponds with pet fish in three percent of households, and 1.3 million terraria in two percent of households in Germany.
"Although the growth in dog and cat numbers is of course especially pleasing to note, it's not entirely unexpected," says Georg Müller, Chairman of the Pet Supplies Industry Association (Industrieverband Heimtierbedarf, IVH). "The trend toward four-legged animals, dogs and cats in particular, has continued for many years, and it has definitely received a boost from the unusual home office situation during the COVID-19 crisis in 2020. But our survey shows that across all pet species, the main reasons for getting a pet are either the circumstances being right or to obtain a replacement following the death of a previous pet. Regardless of what the definitive reason is for acquiring an animal companion, the focus should always be on the well-being of the animal and its needs," Müller summarises.
Many pets live in multi-person households.
Most pets in Germany live in multi-person households. The figures declined from 35 to 34 percent in pet-owning households with two human occupants in 2020, and those with three people or more remained static at 35 percent. 31 percent of pets live in single-person households compared with 30 percent in 2019.
Most pet owners are in mid-life
There were no major changes in the age of pet owners compared with 2019. Many pet owners are still in their middle years: 16 percent are aged between 30 and 39 (2019: 16 percent), 19 percent between 40 and 49 (2019: 20 percent) and 22 percent between 50 and 59 (2019: 22 percent). The proportion of pet owners aged 29 or younger was unchanged at 17 percent, while the proportion of pet owners aged over 60 increased slightly to 25 percent (2019: 24 percent).
The conclusion is shared by Müller and Holthenrich: "Market performance in the pet industry and the growing number of pets in Germany show that Germans still like living with pets and that they're conscientious about caring for their animal friends – perhaps especially in unusual times like the current pandemic."
_______________
Archive of Newsletter Interzoo news
Subscribe to the Interzoo newsletter and stay informed!