Interzoo Newsroom
Interzoo boosts success for start-ups: WachtelGold gets off to a flying start at the Interzoo 2018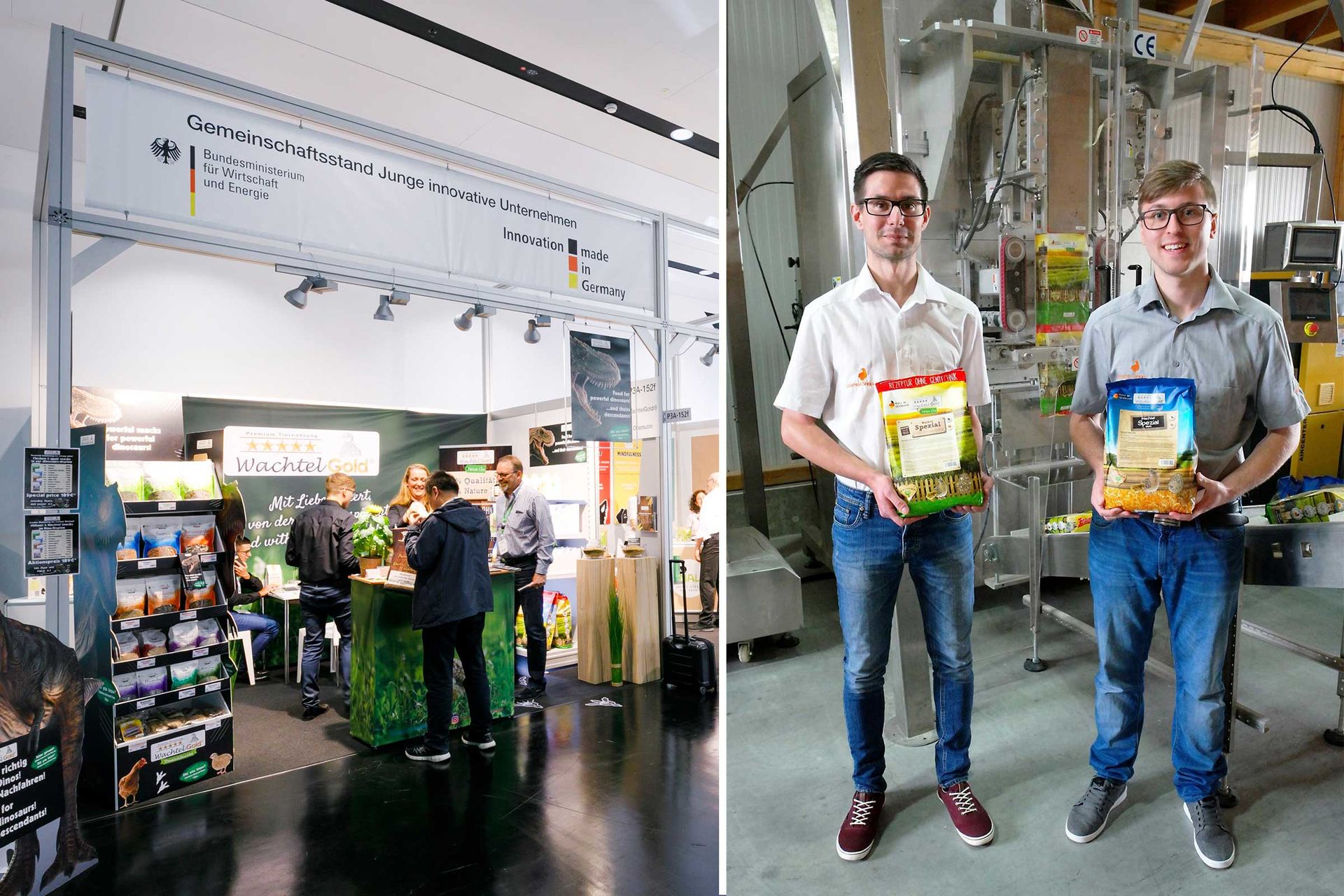 Home farming or hobby farming is a big trend these days. And that is why the German start-up company WachtelGold presented its products for quails and chickens for the first time at the past Interzoo 2018, getting off to a flying start at the Pavilion for Young Entrepreneurs, which is subsidised by the German Federal Ministry for Economic Affairs and Energy.
Having completely relaunched its feed products in advance of the trade fair and deployed modern packaging systems, WachtelGold was ideally prepared for the Interzoo and was poised to begin distribution in retail shops and exports: "The presentation at the Interzoo was a great success. For one thing, we established a business relationship with a major customer in the United States. The resulting order was one of the most important milestones in the history of our company. And so we will definitely participate in the next Interzoo", reported Michael Volk, Managing Director of WachtelGold, adding: "It's just wonderful to plan and implement something and then talk with customers about your products at your own trade fair stand. We received a lot of praise for our products and packaging from experienced business insiders at the Interzoo. That makes you feel good and it's tremendously motivating."
The 25-year-old Volk demonstrated his business acumen already at the age of 11. That is when he began selling home-bred quails on his own website. Later, he sold feed when he noticed that "you can make more money that way". His mother gave him the necessary support and had his business officially registered. A few years and setbacks later, Volk founded the company WachtelGold together with his business partner Nico da Silva (30) in Obersulm, near Heilbronn, in 2014. The idea for developing the feed brand of the same name in 2017 was inspired by the observation that the product selection available in the market did not meet WachtelGold's standards. The company therefore began designing and producing its own premium feed products and snacks, so people can raise quails and chickens in an ecologically friendly and natural way.
In the meantime, WachtelGold's online shop has become Germany's biggest distributor of products for quails and chickens. "We were lucky to form the right start-up at the right time", Volk explained. "Naturally you always worry about failure, but you can ultimately learn from setbacks too."
More information:
www.wachtelgold.de
_______________
Archive of Newsletter Interzoo news
Subscribe to the Interzoo newsletter and stay informed!